COVID-19 FAQs for LRS Healthcare
Travelers

Key info regarding Covid vaccinations.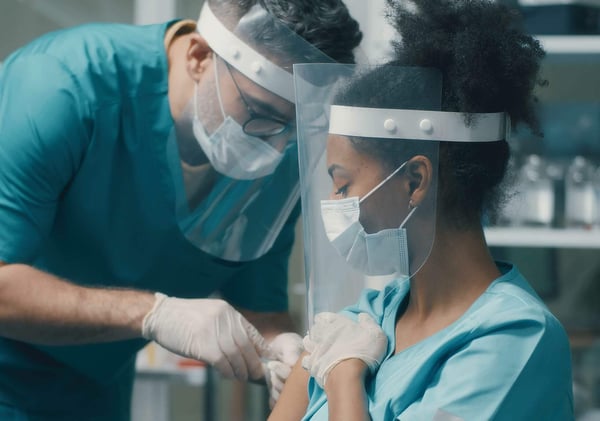 COVID-19 Vaccination Mandates and Requirements for Travel Healthcare Workers
Orders for COVID-19 vaccine mandates have been implemented for healthcare workers nationwide and vary by facility, specialty, and state. We understand these requirements directly affect our travelers, which is why we're diligently working to identify the requirements and changes as they happen.
Providing the most accurate and timely information on this topic is a priority. If you're a healthcare traveler and are seeking information or guidance regarding COVID-19 vaccine mandates, please reach out to your recruiter.
Do I need to be vaccinated to be an LRS Healthcare traveler?
01.No, the COVID-19 vaccine is not required by LRS Healthcare. However, many facilities and states nationwide require proof of vaccination for healthcare workers who work in their facility. If you are considering taking an assignment at one of the facilities with a COVID-19 vaccine mandate, you will need to be fully vaccinated before you start.
What do I do if I am not vaccinated and currently on an assignment at a facility that makes the COVID-19 vaccine a requirement?
02.If you are unsure and concerned about your current facility implementing a vaccine mandate, reach out to your LRS Healthcare recruiter for guidance. They can help guide you through the unknown, and if for some reason your assignment is canceled due to your vaccination status, we will help you find a new one ASAP!
What do I need to do to prove that I have received the COVID-19 vaccine?
03.Simply upload a photo of your vaccination card to your LRS Connect profile.
If I am on (or considering) an assignment at a facility that is implementing a COVID-19 vaccine requirement for their staff, do I need to be fully vaccinated, or can I start if I have only had the first dose (of Pfizer or Moderna)? What if I have not received my booster(s)?
04.It depends on the facility and state regulations.
At what point am I considered "fully vaccinated"?
05.You are considered "fully vaccinated" 14 days after your final COVID-19 vaccine or booster, where applicable, is administered.
I have received both doses of the COVID-19 vaccine, but I start my assignment before I will be considered "fully vaccinated." Can I still start my travel assignment?
06.In most cases, yes; however, each facility may have their own policy or regulations that could either prevent or delay your start date.
Are there any exceptions or exemptions that will allow me to continue working if I choose to not get vaccinated for medical or religious reasons?
07.Some facilities may allow you to request a medical and/or religious accommodation, while others will not accommodate these requests. If you're considering requesting a medical or religious accommodation, please discuss this with your recruiter before committing to an assignment.